Social Meeting february 2011
Social Meeting february 2011
After we had our first real life meet up in Hannover in march 2010 at the 10th birthday of the Arianne project and the social summer meeting which we had in september 2010, we decided to set up our second social meeting in february 2011. After finding a date which we set up around the 23rd of february to the 27th of february, we decided to spent these days in Berlin (capital city of Germany) together. Therefore we found a really nice and cheap apartment in the middle of Berlin which had enough space for everyone and even a useable kitchen this time with all the equipment we needed for creating some really nice meals (that wasn't the case in Hilchenbach unfortunately). Thank you Katie for your tasty cooked meals :)
The attendees of this meeting were: Hendrik, Markus, Katie, Silvio, Vanessa, Simon and Frank.
Events
Wednesday
Arrival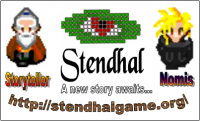 Although cars were really useful in Hilchenbach the last time, we decided to go to Berlin by train. Everyone booked some tickets for different ICEs and we met all up at the main station between 14.00 and 16.30. Katie, Markus, Hendrik, Simon and Vanessa grabbed the same train which arrived at 15.10, Silvio waited for them because he arrived earlier and Frank joined the group later.
After we all arrived a bit tired after a long travel, we decided to spend the rest of the day calmly and relaxing. We went to our apartment which included 3 bedrooms with singlebeds and one room with a doublebed, a huge kitchen, a dining room, 2 bathrooms and a really annoying "woman" called Stella, the unstable WLAN connection :D It was time to get something to eat and drink - the wolves were all starving and thirsty.
Good that we found a supermarket close to the appartment, approximetly 5 minutes away. And then the trip started...
Food food food!
The supermarket invasion began and we left it with around 6 to 7 bags which were extremely heavy and filled up untill the top. Phew, we were happy when we arrived into home for 5-days again...and that all important bottles didn't break on our way :D
But we still had a big plan for the evening: Katies birthday party :)
Katies birthday party
After returning home from our shopping trip, we unpacked all of the bags which we brought with us into the apartment. We were still hungry, so Katie started to cook a lovely tasty meal for us. We bought some sausages and beans as well as potatoes, red cabbage and green cabbage. Katie threw the sausages and beans with tomatoes in a baking dish and placed it into the oven while the potatoes and different cabbage kinds boiled on the hot plates. A really yummi meal, which we all enjoyed :)!
Then the actual birthday party started and we started to celebrate with some nice music - thank you Simon to take the speakers with you again and Katie for the music :) - streamers and balloons included :) We drank some wine, whisky and non-alcoholic drinks, laughed together while playing "cheat" - the game which we played in Hannover too - and had a really nice evening :)
Thursday
The morning
After we all woke up in a now warm apartment, we decided to go out soon to visit some nice places around Berlin. Silvio was really hungry and wanted to eat some Sushi (he talked about it so long as we were convinced of the idea :D) and we decided to find a nice looking restaurant in Berlin... The day began...
Sushi, culture, entertainment!
We first went to the metro station and bought some daily train tickets, jumped into one of the trains and drove to a really sweet Sushi restaurant called Wasabi. It was really tasty there and quite cheap - we all stepped out satisfied and full with a huuuuge amount of sushi and other goodies.
With new strength and ready for some action, we went to a walk along the Friedrichstraße, a long and well-known street in Berlin. Crossing some impressive buildings and some good-looking restaurants, cafes and bars, we arrived at the Bode-museum which has been found and opened in 1904 and includes several art galleries and sculptures from different times. At the entrance we decided to buy a museum ticket which last for 3 days and included different museums which we were allowed to visit during this time without paying the entrance fee again. Later you will see that the ticket was the its money worth it :) We had lots of fun in the museum and made some funny pictures and videos infront of different paintings which could be attached to the more modern art genre :D You'll see why when you find the pictures of it in the gallery which is added at the end here :D
About 2 hours later, we left the museum and were a bit tired of the huge cultural explosion which we experienced in it and went into one of the good-looking cafes which we saw on our way to the museum and enjoyed some cappuccino, espresso, hot chocolate, coffee and water while planning the rest of the day...
Then it was time to drive home again for some food shopping and the evening...
Dinnertime, games and a tongue-twister game
Thursday, evening, flat, hunger! :D This was the motto of the second evening in Berlin. After some hours in the Bode-museum and a walk around the place, we went back home again for cooking, eating and playing a funny tongue-twister game which brought some into a predicament :D
Katie prepared an awesome Lasagne and we all enjoyed eating it while smacking. We made the dishes, better saying that part was the work for our dishwasher and started to think about some funny games for the evening. We decided to play a tongue-twister game which rules were the following:
The game has been played around the table. One player started with the word "one", the second one has to say "frog", the third one "in a pond", the fourth one "splish" and the fifth one "splash"... So the first line is: one - frog - in a pond - splish - splash. After that the line starts again with the next player (this one the sixth one in our case) who has to say "two" the next one "two" the former number one "frogs" then "frogs" then "in a pond" then "in a pond" then "splish" then "splish" and so on... so the game was like "one frog in a pond splish splash" followed by 2*two 2*frogs 2*in a pond 2*splish 2*splash, 3* three 3*frogs 3* in a pond 3* splish 3* splash, 4*... When someone made a fault, he had to drink his glass empty (doesn't matter what was inside of it :P).
When we had "enough" of it, we decided to watch a movie. Therefore we brought the tv and a laptop into Simons and Silvios room because this one had some couches and we started to watch "The big Lebowsky" which was really funny.
The movie ended and we went tired into our beds again... Friday, your turn :)
Friday
Second morning in Berlin
A new cold but sunny day started and we went slowly into it with having some breakfast, checking internet stuff a bit and deciding what we are going to do on the day. Unfortunetly Hendrik felt ill and had to stay home while the rest decided to go out and see some interesting and for Berlin typical places and monuments and some museums which we could visit with our special card which we bought on the first day. We grabbed or jackets, scarves and gloves and left the house for going on a new cultural hunt :)
Exploring Berlin and its sightseing points
Games, fun, the evening :)
After buying some food again for the evening and had an again nice dinner with some red and white cabbage, pork, oven potatoes and a nice sauce, we started a kind of Stendhal-meeting-like-tradition: a game evening. Vanessa brought a game with her called Trivial Pursuit at which people have to answer to different kind of questions out of different categories which are based on the field the player went to. The goal was it to get small stones on 6 special fields for each categorie of questions (like history, chemistry, sports, literature etc.) and you win the game when you answer correctly to a last question out of a category with the other participants chose... but this time, we played soooo long that we decided to stop the game before we all fell asleep at the table :D But it was of course fun to play although it was a bit difficult related to the questions which were in german on the playing cards and mostly related to Germany :)
Caused by the last fact and because it was more fun at all, we created three teams with 2 to 3 players who were allowed to discuss questions and answers before they gave their final answer. The teams were: 1. Katie and Vanessa, 2. Markus and Hendrik and 3. Silvio, Frank and Simon. After stopping the game we decided to not name any winner but closed it with a draw between all of those three :D
Some people wanted to watch "The Labyrinth" after we finished the game, but some were sooo tired that we all went into bed one after another :) The movie-time had been postponed but not abandoned...
A nice day ended again and we went into sleep while starting to dream about the next day...
Saturday
Culture again, museum here we come!
On saturday we wanted to enjoy the last day at which we had time to explore the city even more and its museums. Therefore we looked for some we hadn't seen so far with our ticket and went into a natural science museum which was a bit farer away from our flat. We walked over a huge building lot and met someone who could explain the way to the museum for us and walked there.
The museum itself included several chapters containing everything from trains, first computers up to planes and other stuff which was quite interesting to see. After we finished our tour through it, Markus and Hendrik decided to go and see a talk in a building next to the museum while the rest took some break in the restaurant of the museum. We enjoyed some snacks and drinks and went back later.
We started to plan our last evening together. The former plan was it to go out into a restaurant and enjoy a "first class" dinner, dressed up, looking beautiful, wearing good clothes etc. According to the fact that Berlin wasn't that cheap at all, we changed our plan and decided to have a dinner in our apartment later.
The food selection started ;)
The evening, Ladies and Gentlemen get well dressed!
After going home by train this time back from the museum into our flat, we decided what to cook for our first-class dinner at home. Katie and Vanessa went shopping while the guys were "allowed" to go home already. We bought some pork and beef, some potatoes and other food, a few more bottles of coke and wine and went back home to prepare our dinner...and ourselves...
Back home we started to cook and get all dressed up: guys in shirts and some kind of suit trousers while the ladies prepared themselves with lovely outfits and make-up. The evening started and we enjoyed a nice meal with a main course and dessert after. We listened to some music, talked a lot, played a few games afterwards, Vanessa and Markus went out to buy some more wine at a kiosk and the evening ended up all being happy and tired.
We knew that the next day would be somehow stressful with packing all of our bags and stuff together, so we went into bed and directly fell asleep to get up early again - although the bedtime was already late set up with 2.30...
Sunday
Bye bye Berlin :(
On sunday we had to pack our bags, clean up the flat a bit and leave to the train station quite early to get our connections back home. While Silvio had to leave first and left the apartment while the rest was still packing its bags, some kind of an departuring atmoshphere showed up. We took our stuff, gave the keys back to the landlord who rented us her apartment over the time and went to the main station again by bus.
We had to say goodbye to Katie then who had to grab her train to the airport and the rest of us waited for their trains to go back. Markus, Hendrik, Simon and Vanessa sat down for some time in a well known fast food "restaurant" and talked a bit about the trip and some other topics before they had to catch their trains.
A wonderful Stendhal social meeting ended and we hope that it won't be the last one :)
Photos