Arianne Project Meeting 2010
Arianne Project Meeting 2010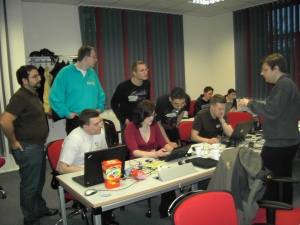 To celebrate the 10th birthday of Arianne and 5th birthday of Stendhal we held a conference in Hannover, Germany. Guests attended from across 3 continents; it was truly an international event.
The attendees were : Hendrik, Markus, Miguel, Kimmo, Katie, Silvio, Marco, Vanessa, Anka, Astrid, Marcus, Daniel, Nadine, Karin, Isabella, Jenny, Simon and Yoriy.
The Arianne team would like to especially thank Professor Loewe, Ms Rottmann and all at the FHDW Hannover for all their help in making this conference a success. Warm thanks go to Karin for bringing us such gorgeous food (and some gorgeous people too, with special guest Baby!) Hendrik and Markus worked really hard with the planning and practical side, so thanks to them. Oh, and don't forget Katie who played the mother and guided the groups safely through Hanover by both picking a hotel and keeping the group day ticket for public transport. And she took lots of notes during the various discussions.
Finally we'd like to thank everyone who attended for making this a really special project birthday celebration.
Events
Friday
On Friday afternoon and evening the first arrivals met for a sight seeing tour of Hannover, then later dinner, discussion and drinks. We started the development discussions early with inspiring ideas flowing fast.
Saturday
Saturday was a really great day. We were very lucky to have a wonderful room at the Conference facilities of the FHDW, thanks to Professor Loewe and Ms Rottmann. It had everything we needed including internet access, a projector for the talks, whiteboards, and a lot of coffee! More arrivals were greeted. It was so special to meet people that we have become friends with online, in real life. At midday we started the first session of talks. Miguel, Hendrik and Katie were Saturday's speakers. For more details on the talks please see here, which has reviews, slides, and videos. The foreign visitors were especially lucky: we were able to sample some real German homebaked food, brought especially by Karin. With a lot of talking and thinking and discussion, the lovely food was really welcome to keep our energy levels high and give us a real taste of German cooking.
On Saturday evening we ate at a friendly local restaurant, Petros. We continued more discussions, had some fun playing cards, and then went into Hannover centre. We played some funny Stendhal based drawing games at the next bar!
Sunday
On Sunday again we were able to use the well equipped room at the FHDW. Kimmo gave a very interesting demonstration on how to use Gimp to create Stendhal graphics. Markus taught us how to write automatic test to ensure the high quality of Stendhal releases before Yoriy gave a talk on his Pied Piper Quest. We ended the official part of the day with a vision of Marauroa's future given by Markus and Hendrik.
The details of the talks are available at talks.
Afterwards we went for another really nice meal at Petros. Hendrik challenged us with some Java puzzles over dinner.
Monday
On Monday the remaining developers met for an intense brain storming session on a Magic system for Stendhal, and other development topics. The list of discussed topics was really huge by this time! We visited the Sea Life centre in Hannover, then found a net connection and had a coding session, starting work on some of the ideas discussed at the meeting. We ate some really tasty traditional Southern German food for dinner.
Talks
Arianne Project Meeting 2010/Talks
Development discussions
Arianne Project Meeting 2010/Development Discussions
Demonstrations
As well as the planned talks, and a lot of development discussions, some demonstrations happened quite spontaneously. Kimmo showed how his redrawn balrog image looked in the master version which is a vector graphics file opened in InkScape. Katie demonstrated an easy way to code quests using pre-written ChatActions and ChatConditions. Silvio described his sound system to the developers, and also demonstrated some artists doing speed drawing with GIMP. We tried out Yoriy's Herald NPC on the test server, and the Pied Piper quest. Kimmo helped Marco tidy up a huge new image he has drawn for some map tiles.
Photos
Arianne Project Meeting 2010/Photos
Planning