Summer Social Meeting 2010-09
Summer Social Meeting 2010
After we had the real life meet up in Hannover this year due to the 10th birthday of the Arianne project we decided to set up another meeting soon as possible, besides from development discussions and talks and just for spending a nice time together again.
In early july of 2010 we decided to celebrate the hot summer together and set up a date and location for another meeting. We also decided to spend a bit more time together and wanted to have a long evening with fun around us, so we chose the date from the 2nd september till the 5th september for the meeting. As though as we are all living at different places, we wanted to have some kind of holiday house for us alone for being a bit more private there and open for what we are going to do, besides from hotels.
It was difficult, but we made it! We found a holiday appartment in Hilchenbach, a nice and calm city, 14 km away from Siegen, 95 km from Cologne/Köln and 130 km from Frankfurt am Main, at the foot of the german "Rothaargebirge". Although the house itself was located in a nature surrounded area (sheeps behind the house, really rural) we found different activities we could make together and had a nice time.
The attendees were: Hendrik, Markus, Katie, Silvio, Marco, Vanessa, Simon and Frank as a special guest.
Events
Thursday
Arrival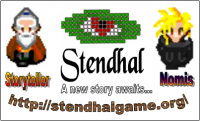 Vanessa set up an official arriving time with the house owners at 16.15 o'clock on the second september. As though as we all came from all over Germany and England, we didn't arrive at the same time. Simon was the first attendee who came to the house and waited with a fully packed car and some really nice signs on it, in front of the door of the house. Silvio and Vanessa arrived together in a taxi as the second ones. Good, that the taxi-lady didn't knew the way to the house at all :D Seems, like the area is pretty much unknown there, also for inhabitans, but we saw Simon and guided her to the right yellow huge house and were happy to be there then. Katie, Hendrik and Markus joined the "waiting three" a few minutes after that.
Then the waiting started... Although a time has been set up earlier, the house owners didn't show up until Markus took a look around the house and found a man working besides of it. And guess what, that was the guy we needed! He gave us the keys and explained a few things and let us in there.
Food food food!
We brought the baggage into our rooms (3 rooms with different sizes) and planned the rest of the day. What we had to do was: Finding a place for shopping some food! So we grabbed the cars and drove to Hilchenbach and searched for food. After finding a shopping center with different food shops in there, we started to buy most of the things we needed like kitchen equipment and FOOD :D (and some nice drinks :P)
The evening
After returning home from our shopping trip, we needed some minutes to bring everything into the house. It was late there and we all hungry, so Katie and Vanessa started to plan the meal for the evening. We bought some roast pork and wanted to serve it with potatoes and vegetables out of the oven and started our plan. Unfortunetly we saw too late, that the furnace grate was too huge for oven :D Uh oh... So a plan B had to be set up. Katie got an idea then of what we can do and made a beautiful roast pork out of the oven, made in a cooking pot in there and it was reaaaally tasty! We also had carrots and brokkoli as well as potatoes. Yummi!
Meanwhile Simon set up his sound equipment he brought to have some background music for us.
We were really "full" after dinner and thought about some games we could play after the table had been cleaned. Therefore Katie prepared a pairs-game with Stendhal items with 36 cards. Vanessa also prepared bingo-cards with Stendhal creatures before she arrived. We played both in the evening and it was really really funny! We had some nice conversations and laughed a lot and it was really sad that the evening went over so fast.
The day ended at around 1.30 and we went all tired but happy into our beds.
Friday
The morning
"KUKARUKUUUUU" A cock made noises in the morning after a quiet night and it gave us the sign of waking up and starting the second day.
After Markus went out for a run to wake some sheeps and cows up, the others tried to push themselves out of the beds. After that happened, the breakfast table has been build up with lots of different packages of cold meat and cheese as though as some jam and butter, together with orange juice and of course coffee. We had a calm breakfast and tried to think about plans for the rest of the day and discussed that after the breakfast ended as well.
Daily plans
The WLAN connection of the house was slow but it helped us to find something interesting to do. Therefore we found a huge lake of a water treatment plant in Allenbach, a city close to Hilchenbach were we stayed at. We drove there and started to walk around the lake while playing funny games like "Guess which creature I am" which wasn't as easy as we thought it would be. But we had lots of fun! After about 6 kilometers we reached our starting point again and decided about what to do in the evening. Our plan was it, to have a nice meal again with fish and we wanted to go and buy one, so we grabbed the cars again and went back to Hilchenbach, into the known shopping center of thursday.
Unfortunelty we had to notice that the fish plans couldn't be made because the fish swam away out of the supermarket before we arrived there :D So we had to think about a new plan and decided to go with chicken, vegetables and potatoes. When we arrived at home, our last staying-guest, Marco, arrived.
The evening
The evening started with cooking the again yummi meal. Thank you Katie for the cooking :) The rest brought plates, forks and knives onto the table, same as glasses as drinks. The dinner was ready then and we enjoyed it. After finishing to eat, we cleaned the table again and started to play like on the day before. Now we went on a bit with the "guess which creature I am" game from the walking earlier and played some bingo and pairs. While playing bingo which we did with letting the server choose which creatures he will show to us (more descriptions later :)) we also take a look at the descriptions of creatures which showed up for deleting spelling- and grammar faults and also adding descriptions to creatures which didn't have any up yet. Katie wrote everything down on a letter before we had to hide it from Silvio :D (insider reasons :D). To make the bingo rounds a bit faster, Katie logged herself in and killed a range of different creatures for making the game more exciting. After finishing the rounds and games, we created a new game (again :D) which was: painting maps and creatures down which the others had to guess.
The second day ended and we went into our beds again.
Saturday, day three
The morning
"Mehehehehee!"... What how why? Oh, right :D Day three started with some sheep noises comming from the backyard. Just too sweet and Stendhal-like :D Waking up at day three was a bit difficult, at least for some... The tiredness touched it but we fought and won! And had a nice breakfast again :) After that, we thought about the daily plans again which we knew earlier as well: Having a BBQ at the evening...
Town sightseeing tour
Before starting the BBQ in the evening, we wanted to make a real sightseeing tour through Hilchenbach itself, what we didn't do earlier before that. We went into town and walked through some streets while watching old nice looking houses from outside, same as the city church, banks and the mayor building. And guess what? It reminded us about Stendhal :D So we made some funny photos around there which are really cute to watch! During the photo sessions we had some yummi icecream and find out, that strangers in a quiet town really cause a stir :D A young lady in a car for example stopped close to Simon after he danced a bit to her in-car music and she was really happy about that :D
Food food food part 2!
What do you need for a BBQ? Riiiight! Meat! Meat aaaaand meat! Therefore we went into the supermarket again after the sightseeing tour and started to fill our shopping car with more or less each kind of meat we could get! And also some other things like salad, bread, sauces and other stuff. We returned happily and drove back to the house.
BBQ
When we arrived at the house, we met and greet our special guest Frank who has been waiting with Hendrik while we were shopping. We directly started to prepare different kinds of salad (pasta salad, potatoe salad and a green salad) and marinated the meat. The guys heated up the BBQ grill and started to prepare the fine sample of different kind of meat and vegetable skewers which we enjoyed after in the sun of the house terrace.
The evening
After we finished our BBQ, we sat together, talked a bit and played "Guess which item I am". Between some rounds Silvio, Marco and Simon had the plan to take a laptop and a microphone and record some real sounds which could be used for the game. There was a stream at the side of the garden and they tried to record the water sound. Luckily none of them fell into the water ;) Bad luck was that the sheep on the other side of the stream made no sounds at that time, but were eating, so they weren't able to record a nice sheep sound... But the records which had been done were a success.
Later we decided to go back in the house because it became a bit cold outside on the terrace. We showed some more games which we played over the last evenings to Frank and started two last rounds of Bingo and pairs. Simon brought a cloak with him and we started to play "Guess which quest I show to you" which was a mix of theater and pantomime and extremely funny. Unfortunately Frank had to leave for driving back home and we started to watch a DVD Katie brought with her after that. We were all a bit tired and enjoyed the movie while laying down on the couches in the living room. The DVD ended at about 1.15 and we went into bed.
Sunday, last day
Last breakfast
Our last breakfast together started at 8.30 in the morning. Quite early after a BBQ evening with so much food and drinks around but we all woke up in time and enjoyed our last breakfast together. Unfortunetly Marco and Silvio had to leave early, so we had to plan the rest of the day with just 5 people around instead of 7. We had to clean the kitchen up after breakfast and had to leave the house at 11 o'clock so we had some more time with our baggage in the cars.
Walking around and visiting Siegen
After leaving the house we went into a forest for a walk through the untouched nature. Although we missed the right path a few times, we returned savely to our cars and went on to Siegen, a bigger city some minutes away from Hilchenbach. We were all hungry and decided to go into a restaurant there for giving us some HP from starving back. After talking and playing pairs in the restaurant, Markus, Katie, Hendrik and Simon guided Vanessa to her train station and all left after saying good bye to each other.
Another brilliant meeting ended up but we will of course plan a new one soon!
Photos