Semos Catacombs
Places:   

Dungeons  |   Ados Abandoned Keep   |   Ados Caves   |   Amazon Tunnel   |   Assassin Tunnel   |   Drow Tunnels   |   Fado Great Caves   |   Hell   |   Kanmararn   |   Kotoch   |   Nalwor Caves   |   Orril Castle   |   Orril Dungeon   |   Orril Dwarf Mine   |   Outside Ados   |   Semos Catacombs   |   Semos Caves   |   Semos Dungeons   |   Semos Mines   |   Semos Yeti Cave   |   ...
Hi, do you know something about Semos Catacombs?
Please help us to extend this page.
You can create a Wiki account with the link in the upper right hand corner.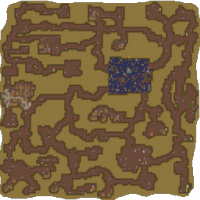 Short Summary
A hole in the ground on Semos graveyard. Prepare yourself well to fight the undead.
History and Background Story
Help to add information about the history and background story of Semos Catacombs.
Floors
First Floor
Second Floor
Third Floor
Inhabitants
People 

Creatures
Information for Players
Player Level 

30 - ?
Photo Gallery
Feel free to add screenshots from your journey to Semos Catacombs.