Places:   

Regions   |   Ados   |   Amazon   |   Athor   |   Deniran   |   Fado   |   Kalavan   |   Kikareukin   |   Kirdneh   |   Nalwor   |   Or'ril   |   Semos   |   ...
Hi, do you know something about Athor?
Please help us to extend this page.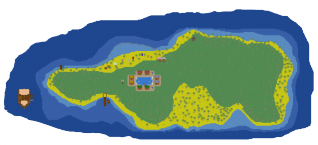 Athor is an island.
Please write a general description of Athor island here
Please write something about the history of Athor island
Points of Interest in Athor Island
Western Athor Island
If you go to the beach in the north, you'll meet some friendly people who need your help like Zara. She has a painful problem. Just speak with her! And if you want to go swimming and playing in the sun, borrow some trunks or swimsuits. If you want to chill out of the hot sun, go in the Athor Cocktail Bar. Or you find some monkeys and angle tropical fishes. If you want to go back to the mainland, use the ferry. Ask Jessica for that.
Eastern Athor Island
The tourists in the North don't know what is happening on the quick sand or what is happening in the east. In the east are hungry cannibals! I think they will like you and your flesh! Don't try to run on the quick sand. Maybe you will fall down in the Athor Tunnels! A dangerous place!
Athor Tunnels
Did you fall down to the Athor Tunnels? Below the ground live stronger, and more evil creatures than on the surface. Take care of the monks, the blue dragon, the sheepmen, the evil minotaur king and more! Kill the minotaur king! He is waiting for you!
Athor Ship
The Athor Ship is sailing 6 minutes from the mainland to the Island. Don't worry, Captain Brownbeard may have just one eye but he knows the route! On the tour you might get hungry, and if you don't have your food with you just ask Laura to buy something. Maybe you will be bored after a while, but you can play blackjack at Ramon's. If you take your fishing rod with you, maybe you will catch a fish! If you want to dive into the sea, ask Edward. Klaas on the ship buys poisons from you to kill the annoying rats.
To disembark speak with Jackie.
Information for Players
Please write down relevant out-of-character information for players
Photo Gallery
Athor Region

You may like a cocktail to cool down, from this hut

Cannibals keep vegetables for making yummy soup .. of you!