Places:   

Dungeons  |   Ados Abandoned Keep   |   Ados Caves   |   Amazon Tunnel   |   Assassin Tunnel   |   Deniran Caves   |   Drow Tunnels   |   Fado Great Caves   |   Hell   |   Kanmararn   |   Kotoch   |   Nalwor Caves   |   Orril Castle   |   Orril Dungeon   |   Orril Dwarf Mine   |   Outside Ados   |   Semos Catacombs   |   Semos Caves   |   Semos Dungeons   |   Semos Mines   |   Semos Yeti Cave   |   ...
Hi, do you know something about Orril Dungeon?
Please help us to extend this page.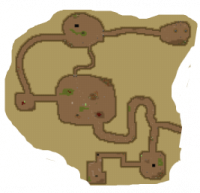 The Orril Dungeon is also known as the "Rat Dungeon". Maybe you will find your way to something special down in the tunnels...
History and Background Story
In this place you always find all kinds of rats. It is a good place for collecting cheese and money. There is a hidden secret Ratcity which you will maybe find while being brave on your way through the tunnels of the Orril Dungeon... So keep your eyes wide open and explore that nice area.
Ratcity
The Ratcity is a hidden town in the Orril Dungeon. The inhabitants are mainly humanlike rat mutants like Ratwomen and Ratmen who built up their own city in the dark areas of the dungeon where they are suppose to be safe. Normally their only fear is the amount of young brave heroes who are exploring their town. Therefore the rat-army doubled the amount of soldiers and their armor and weapons.
Despite their power, the inhabitants of Ratcity are having problems with taking care of their own family and friends. Therefore some are already lost in the wide corridors of Orril Dungeon. Some heroes told others about a young mother in one of the Ratcity houses who is afraid for her children. Agnus is feeling so worried about her children because she doesn't know where her children are and if they are safe. Maybe you can help her with finding that out?
Inhabitants
Creatures 

People 

Waerryna, who guides the way. In the passage beyond her would be dark elves, the way to the Rat City is to keep going straight ahead, not down her tunnel.
Information for Players
Player Level 

5-70

Entrance 

Orril Forest (E)

Dungeon Levels 

4

Showing on the map

Level -2.
Photo Gallery
Orril Dungeons

Waerryna is a dark elf who knows where the Rat City is .. even if she doesn't like it.