Places:   

Dungeons  |   Ados Abandoned Keep   |   Ados Caves   |   Amazon Tunnel   |   Assassin Tunnel   |   Deniran Caves   |   Drow Tunnels   |   Fado Great Caves   |   Hell   |   Kanmararn   |   Kotoch   |   Nalwor Caves   |   Orril Castle   |   Orril Dungeon   |   Orril Dwarf Mine   |   Outside Ados   |   Semos Catacombs   |   Semos Caves   |   Semos Dungeons   |   Semos Mines   |   Semos Yeti Cave   |   ...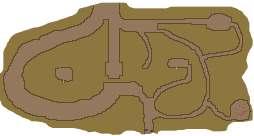 Short Summary
The Ados Caves are built up from lots of smaller caves and tunnels. There are many different creatures running around which guard the paths.
History and Background Story
Ados caves are filled with monks and giants. It's an underground place which you can access by going through Semos Caves. Some time ago, giants and their families decided to move into the Caves for living in peace and harmony, guided by some of their pets, bears and black bears. Unfortunately some of the heroes who made their way passing them, attacked these once friendly tall people and have been punished by these. They confederated themselves with other huge creatures like dragons and giant kobolds for being stronger and more successful against intruders of their home place...

From now on, Ados Caves wasn't that peaceful any longer...
Inhabitants
Creatures
Information for Players
Player Level

80-x Because you can't even get there if you aren't lvl 80 and you will actually get nothing if you aren't

Entrance

From Semos Caves and Nalwor Caves and Ados Rock

Dungeon Levels

1
Photo Gallery
{{#breadcrumbs: Stendhal | World | Dungeons | Ados Caves }}